Hospitality as a career of choice: My Hospitality World Warwickshire
"What better way to celebrate and showcase an industry than the employers themselves opening up their doors and inviting future employees to see what's on offer?"
The hospitality industry is to open its doors to attract new talent in a campaign supported by Warwickshire County Council: 'My Hospitality World, Warwickshire.'
A week of events from February 27th to March 5th will bring top local hospitality employers and schools together to showcase career opportunities available and inspire young people to consider a career in this vibrant and rapidly growing sector.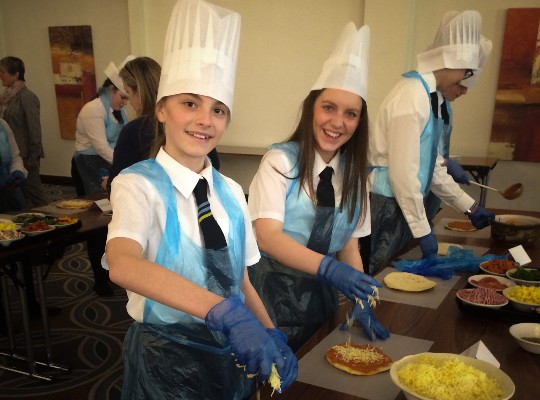 Hospitality businesses from across Warwickshire will offer a range of 'backstage' tours, presentations and job-shadowing opportunities to demonstrate what is on offer and spot future talent.
Around 200 students from 20 Warwickshire schools are set to participate in the event. Over 18 hotels will take part including Q-Hotels, The Eden Hotel Collection, Macdonald Hotels and Resorts, Hallmark and many others.
Workshops on offer include The Taste Bud Challenge, Pizza Making, Spa Academy, The Customer Service experience and Manager in the Making.
During the week there will also be a mixture of school-led activities and also workshops which parents are also invited to attend and explore with their youngsters.
Cllr Izzi Seccombe, Leader of Warwickshire County Council said: "This is a wonderful opportunity for our young people to discover more about this growing industry. With work experience and visits to top employers on offer, they will be able to discover the breadth of employment opportunities in this sector.
"We hope as many as 600 young people will take part in, and be inspired by, the events taking place across the region."
Lisa Redding, Head of HR for Eden Hotel Collection, a member of the steering committee for the My Hospitality World project, said: "We are immensely proud to have been part of this exciting initiative and the first 'My Hospitality World' week outside London.
"There are many misconceptions around careers in hospitality despite the vast scope of opportunities and the ability to progress at a young age. Engaging with local schools/colleges must be a key priority for all hospitality employers to enable us to inspire the next generation.
"The opportunity to be able to welcome teachers, students and parents into our hotels during this week is really exciting and will enable us to showcase our exciting industry."
Peter Ducker FIH, Chief Executive of the Institute of Hospitality, added: "As the professional body for the hospitality industry, our purpose is to promote hospitality management through lifelong learning. We want to encourage and support people to embark on a career path in this exciting industry and the 'My Hospitality World' initiative will help us to achieve this.
"What better way to celebrate and showcase an industry than the employers themselves opening up their doors and inviting future employees to see what's on offer? We are confident that we will successfully inspire the next generation of chefs, hotel managers and restaurant owners – ensuring a bright future for the nation's hospitality industry."
Warwickshire County Council is working with Proactive Education to coordinate the campaign in Warwickshire. To find out more, or book a place on one of the many activities, please email Pro Active Education.